Pam at New Life Head Start Brooklyn NY


Educational, Active & Entertaining Musical Preschool Assemblies

Pam is a nationally recognized entertainer, and teacher in-service presenter in preschool settings. Bring her to your preschools today!

Reviews
"Every preschool on the planet should Hop, Skip and Jump with Pam Donkin!"


-- Kathy Byers, Children's Music Hall of Fame
"Your music is so age appropriate for preschool. The children were really engaged, got really involved and loved it. Many performers have trouble adjusting to this age level. Your performance was great!"


-- Jan Dunham, Preschool Teacher, Laven Early Childhood Center, Albany, NY
"Thank you, Pam, for two wonderful concerts. Our children and staff truly enjoyed their musical experience. Call us whenever you are in town!"


-- Barbara Topolovsky, Columbus Jewish Community Center
"Thanks so much for the wonderful concert for our two-year-old classes. The feedback was so enthusiastic and the parents and teachers appreciated how age appropriate your music and movement activities were. I look forward to having you return for a concert soon."


-- Judy Garb, Director of Early Childhood Education,
Peninsula Jewish Community Center
"You were fantastic! Such good control! Love the scarves."


-- Chris Cosgrove, New Orleans JCC

Preschool Assembly Programs

Choose from the following programs:
A Hop, Skip, and a Jump (Activity Songs for the Very Young) (preschool ages)
Encourage brain development and literacy in this interactive and fun musical program geared to preschoolers. Join Nationally award-winning, singer/songwriter, and Gentle Wind recording artist, Pam Donkin as she leads songs, chants, small and large movement activities that help with reading-readiness and musical response. There is even a puppy story, with puppets, that teaches subtraction! Participants will also experience the joy of music-making with scarves and expressive movement. Drawn by Pam's irresistibly warm, friendly voice and charismatic performance style, everyone will want to sing along, clap along and dance along! Additional Preschool Teacher In-Service also available.
Kitchen Jam (ages: 2-4, or 2-8)
Get out the spoons, get out the pans, we're going to have a kitchen jam! In this fun and interactive program Pam will sing songs about food and the kitchen! She will bring along a box of kitchen implements that will become "instruments" and audience members will be able to play them or shaker eggs. Elementary age audience members will also learn to play the spoons, using plastic spoons!


Sing, Move, Get the Beat! (ages: preschool)
Join award-winning, singer/songwriter, and Gentle Wind recording artist, Pam Donkin as she connects movement to language in this interactive and engaging music show for children and their caregivers/teachers. Studies reveal the importance of the ability to keep a beat and its link to adequate linguistic development. Brain research reveals that involvement with music uses several different parts of the brain. Additionally, crossing the midline integrates brain hemispheres to enable the brain to organize itself. This brain-based program includes Pam's song, Gotta Get the Beat and other songs with active movement, including crossing the midline and patterning. Drawn by Pam's irresistibly warm, friendly voice and charismatic performance style, participants will experience the joy of music-making with active movement.
Music is Magic (preschool ages)
Right before your very ears, this program will make new friends appear, put an alligator (and more) into a pie, mash peanut butter n jelly, walk in slimy mud, and consult with Dr Dingle. These wise and witty songs are irresistible to kids and teachers as this musical wizard works her magic and pulls giggles and tickles out of her hat.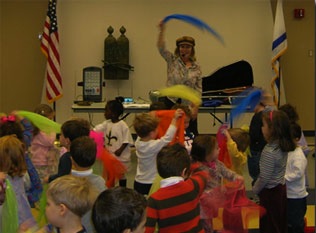 Preschool Show in New Orleans, LA, January 2007